> Back to dallasmarketcenter.com
Explore the world through artisanal products.
Back by popular demand, the International Folk Art Market | Collection presented by Dallas Market Center returns
during the Dallas Total Home & Gift Market , June 22 - 25, 2022 , offering the
opportunity to directly impact the world's folk art artists and their communities.
A Dallas exclusive, these master artists' one-of-a-kind products have been featured in O Magazine and The New York
Times, and are sure to capture the hearts of your customers.
Prior to the show, join us for a VIP Preview Party on Tuesday, June 21 at 6pm to get a sneak peek.

More Info
International Folk Art Market | 2022 Artists
ABDULLAH & ABDULJABBAR KHATRI
Company
SIDR Craft
Country
India
Email
nadia@folkartmarket.org
SIDR Craft
SIDR Craft is a social, artisan-based enterprise established in 1992 and led by Abdullah and Abduljabbar Khatri. They employ approximately 200 craftswomen in Kutch, Gujarat, India. Bandhani scarves can take weeks and often months to complete. The handcrafted scarves are composed of highly intricate patterns that are literally tied into the fabric and then dyed using a complex dying process. "We've been fascinated with our traditional craft since childhood. In 1992, we started tie-dyeing professionally, making cotton dresses, dupattas and sarees for Indian markets. It's very fulfilling that our work leads to a sustainable livelihood for around 250 artisan women in rural Kutch."
AMALIA GUE DE TENI
Company
Ixbalam'ke
Country
Guatemala
Email
nadia@folkartmarket.org
Ixbalam'ke
Amalia Gue is the president of Ixbalam'ke, a cooperative of 65 women dedicated to the production of textiles using traditional weaving techniques. They live in the community of Samac de Cobán in Alta Verpaz and are inspired by the landscape and beauty of the region. All the women in her community know how to weave, having grown up around looms. Girls learn to weave using the backstrap loom by the time they are eight years old. The members of the cooperative maintain the intricate technique of gauze weaving, and the use of coyuche, or natural brown cotton, practices that are rapidly disappearing. They also have a project making smaller-sized looms for younger generations to continue to learn the tradition of weaving.
ANDREA USAI
Company
KOKKU
Country
Italy
Email
nadia@folkartmarket.org
KOKKU
Master jewelers Andrea and Ansula Usai turned away from their modern jobs to learn the delicate and ancient craft of filigree metalwork to rescue Andrea's family's business. Sardinian-born Andrea represents the fifth generation of filigree artists in his family, inheriting his skills and knowledge from his uncle Riccardo who has been a jewelry maker for more than 40 years. The Usais use techniques that have remained unchanged for centuries to create intricate and elegant wearable artworks from gold, silver, precious and semi-precious gems. The Usai's brand, KOKKU, focuses on jewelry that is precious but eminently wearable, made from 18-karat gold and sterling silver. The fine jewelry the Usais offer is imbued with stories of ancient history, family bonds, and adaptability through modern design.
MOHAMED EL MAOULOUD AG HAMID
Company
Association Timidwa
Country
Mali
Email
nadia@folkartmarket.org
Association Timidwa
Northern Mali artist collective Timidwa was founded with the mission of bringing people together united in common creative goals. Timidwa's members not only support each other creatively – sharing skills and design techniques – but also socially. Timidwa's silver jewelry, often set with bold, large segments of polished semi-precious stones, are in a class of their own. From start to finish, everything produced by Timidwa's artisans is handmade. This principle even extends to leatherworking tools. In many cases, artisans use engraving tools of their own construction and design. Remarkably diverse, Timidwa's members are nevertheless united in making some of the finest, and most breathtakingly unique, artwork imaginable.
AZIZ MURTAZAEV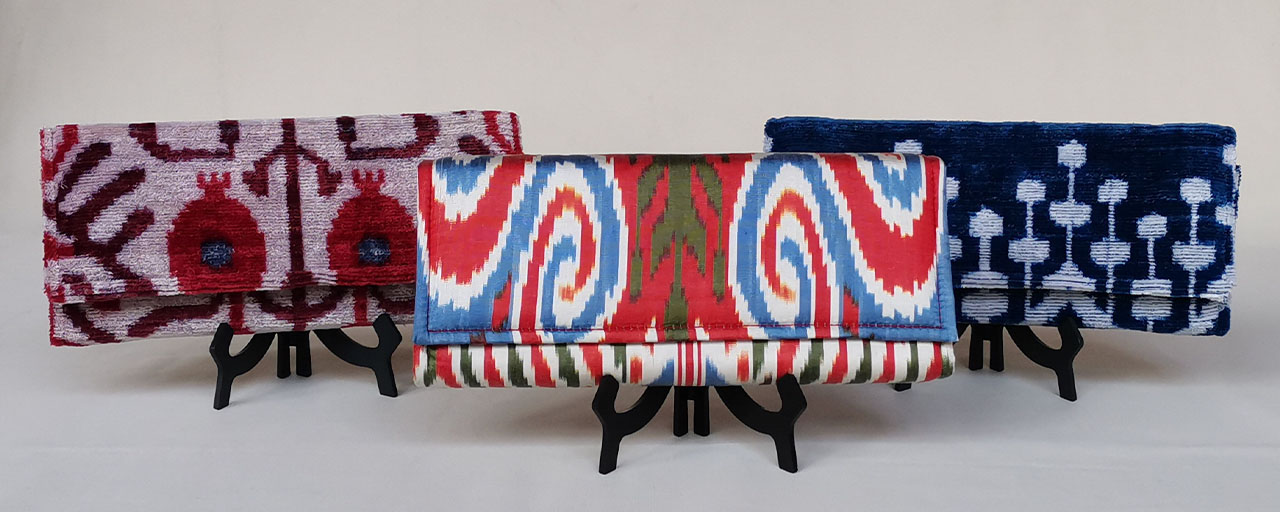 Company
Crafts Studio IkatUz
Country
Uzbekistan
Email
nadia@folkartmarket.org
Crafts Studio IkatUz
According to Aziz Murtazaev, founder of the Crafts Studio IkatUz cooperative, there are two processes that make ikat production unique. The first is the cultivation of silkworms and harvesting their cocoons. The second is the spinning and dyeing of threads. Crafts Studio IkatUz offers an exciting variety of ikat items including luxurious silk tunics, caftans, and vests, as well as accessories to compliment them—a variety of clutches and soft scarves. Additionally, the cooperative produces collections of home goods including quilted cotton bedcovers, velvet cushions, and even transformable fabric trays for organizational needs. For those who prefer to craft their own ikat items, dye, and woven adras are available by the yard.
DAROUNY THONGDYNALAI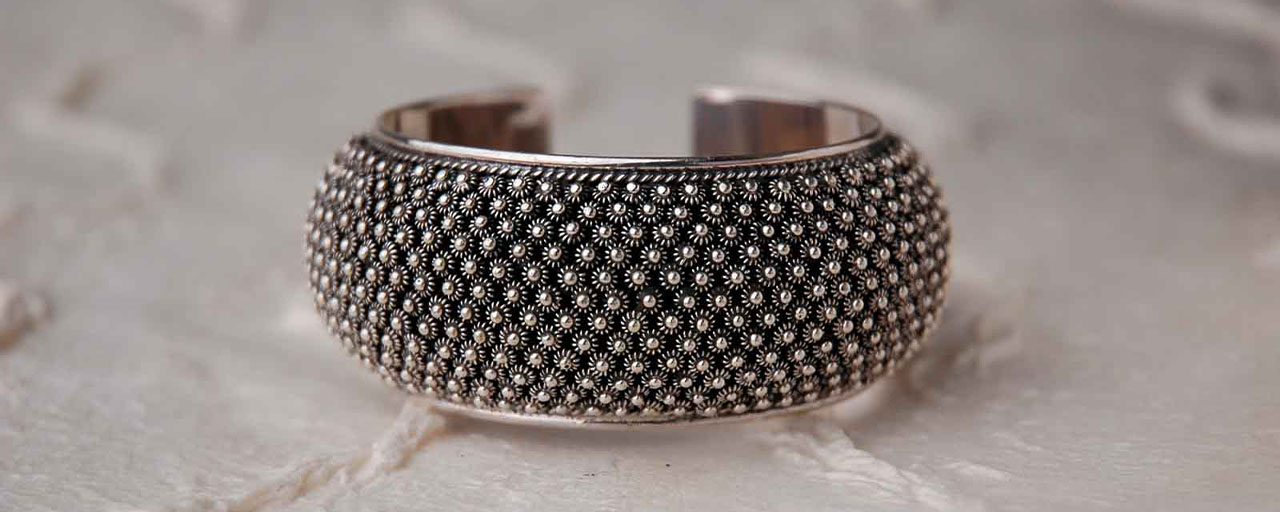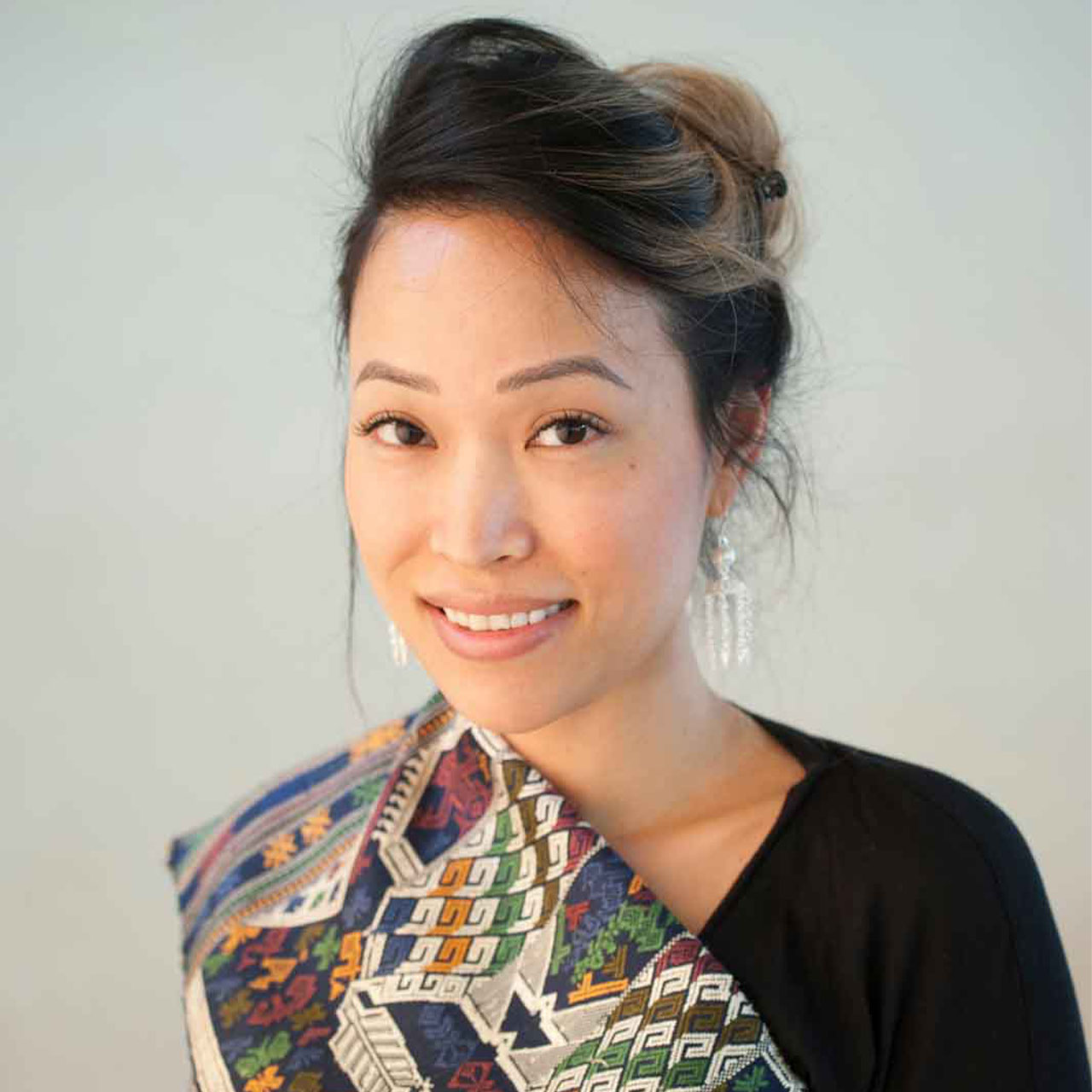 Company
Blanc de Noir & Co.
Country
Lao People's Democratic Republic
Email
nadia@folkartmarket.org
Blanc de Noir & Co.
Blanc de Noir, now entering its fourth decade, puts subtle twists on ancient designs. For example, every item created includes a symbolic flower of prosperity, which relates to ancient times, when the embellishment was only made by royally-approved artisans. Blanc de Noir's artisans are aware of how important it is to preserve jewelry-making techniques in danger of being lost today. There are very few jewelers with the skill and training necessary to produce traditional Lao jewelry. Blanc de Noir takes enormous, and well-deserved, pride in the creation of each braided-silver necklace, gorgeously adorned bangle, and delicate pair of earrings they produce.
ISAIAS FEDERICO BARRAGAN BAUSTISTA & FEDERICO JIMENEZ
Company
ISAIAS FEDERICO BARRAGAN BAUSTISTA & FEDERICO JIMENEZ
Country
Mexico
Email
nadia@folkartmarket.org
ISAIAS FEDERICO BARRAGAN BAUSTISTA & FEDERICO JIMENEZ
The art of making filigree jewelry was brought to Mexico in the 16th century from Spain. Oaxaca is known for its fine filigree pieces. The earrings, necklaces, pendants, rings, and bracelets are traditionally worn during Oaxacan festivals and weddings, but many people have begun to wear them daily. Both Isaias Federico Barragan Baustista and Federico Jimenez work with gold and silver, incorporating turquoise, coral, and pearls in their filigree jewelry. The son of a master filigree artist, Isaias was surrounded by this art form since birth and began to create his own pieces at the age of 11. Federico and his wife Ellen donated a building and their collection of Mexican textiles, jewelry, and folk art to the city of Oaxaca for the Museo Belber Jimenez.
FIRDOSE AHMAD JAN
Company
FIRDOSE AHMAD JAN
Country
India
Email
nadia@folkartmarket.org
FIRDOSE AHMAD JAN
The sumptuous textiles of master weaver Firdose Ahmad Jan are beloved for their exquisite patterning and unparalleled softness. Extending a centuries-old artistic tradition, Jan, who lives and works with his family in the city of Srinagar in Kashmir, India believes strongly in the historical integrity and rich background of his artistic practice, which, after all, is believed to have first started with the Indus Valley Civilization. "I am lucky that I was born into a family where every member has the passion to sustain and preserve this folk art for coming generations," says Jan. Jan's shawls, so distinctively patterned and painstakingly crafted, are made on traditional wooden looms, using all-local materials from cashmere wool to organic dyes.
FLORENCIA ESPINAL RAMÍREZ & VICENTE CASTILLO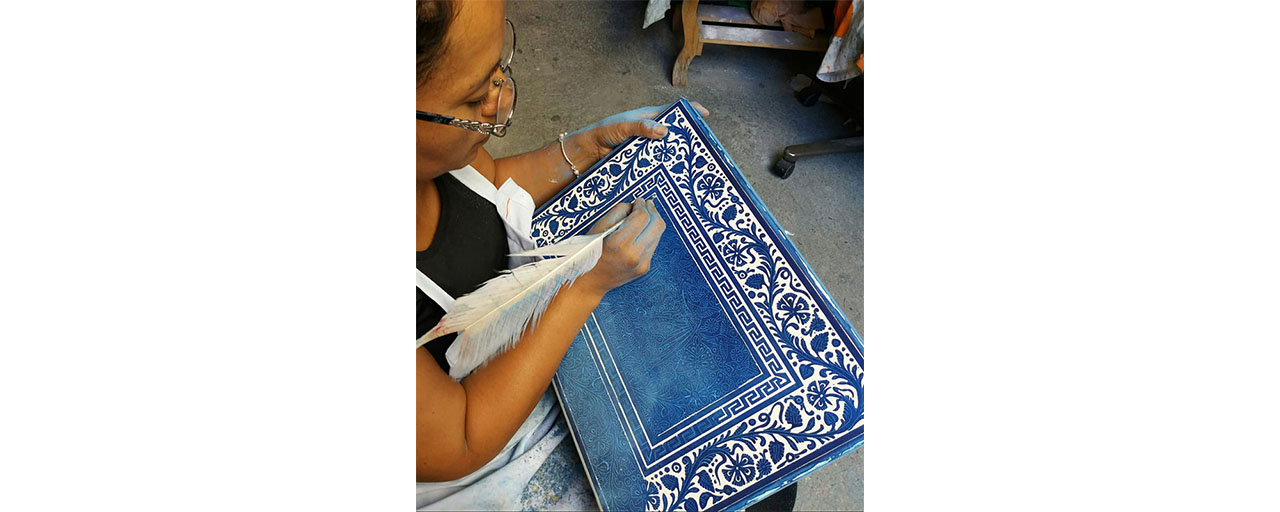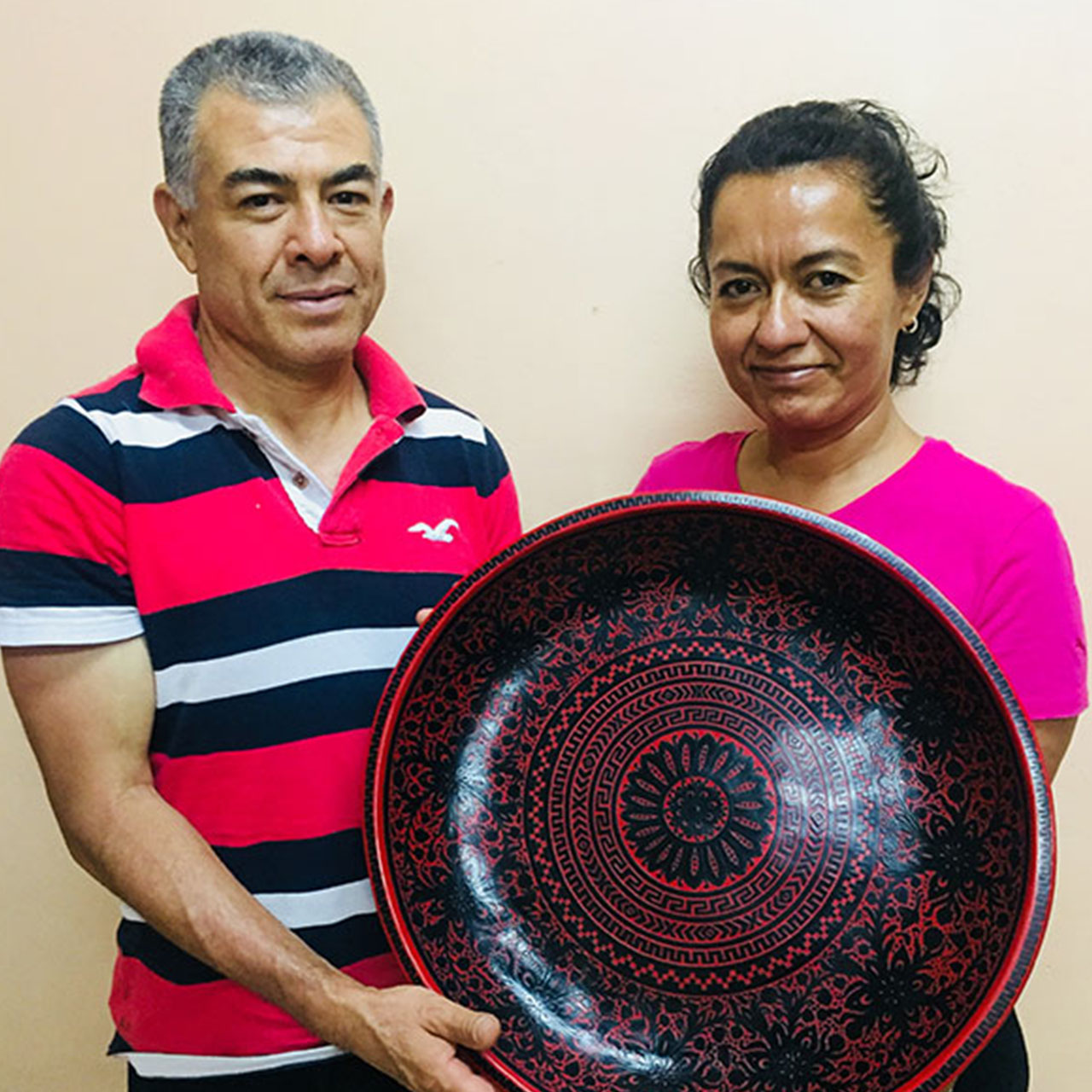 Company
FLORENCIA ESPINAL RAMÍREZ & VICENTE CASTILLO
Country
Mexico
Email
nadia@folkartmarket.org
FLORENCIA ESPINAL RAMÍREZ & VICENTE CASTILLO
Long before the Spanish arrived in Mexico, Indigenous people created artworks as ingenious as they were visually appealing. Continuing that tradition today are master woodcarvers Florencia Espinal Ramírez and Vicente Castillo, a veritable creative dream team. Together, they make a range of extraordinary lacquered boxes designed to hold any number of treasures. "Our community is difficult to access, and it's small," says Florencia. "And yet, the name of Olinalá is known nationally and internationally; it is the Mexican capital of lacquer." The dazzling lacquer coating on each one-of-a-kind box adds a spectacular luster; though these boxes are suitable for holding treasures, in truth each one is a treasure unto itself.
GULNORA ODILOVA
Company
GULNORA ODILOVA
Country
Uzbekistan
Email
nadia@folkartmarket.org
GULNORA ODILOVA
Odilova works primarily in silk, which is cultivated locally in Uzbekistan. The process of creating one of her intricately designed, many-hued coats, for instance, starts with selecting an appropriate piece of fabric. Then the design must be created, a process that begins with multiple sketches. Colors are chosen along with motifs, and then embroidery begins. Odilova is proud to offer footwear in addition to garments and home goods. Leather is the base material, over which fantastically intricate, allover patterning is applied. Every step of the process is done by hand. Odilova has been the recipient of highly coveted awards including the best handicraft artisan of Uzbekistan by the country's president in 2006.
HAMZEH NATSHEH
Company
Hebron Glass
Country
Palestinian Territories
Email
nadia@folkartmarket.org
Hebron Glass
Hamzeh Natsheh is a master glass-blower who heads his family business, Hebron Glass, along with his son, Hamdi. Residing in the Palestinian city of Hebron, the largest on the West Bank, the Natsheh family makes a range of translucent glass products with waves of colors reminiscent of the sea, sky, and desert. Natsheh traces his family's history of glass-blowing to the first half of the 19th century, but the craft has roots in the area dating back to 122-330 CE. Hebron Glass produces functional glassware dishes, bowls, pitchers, and vases, as well as jewelry and beads.
HEMANGINI RATHORE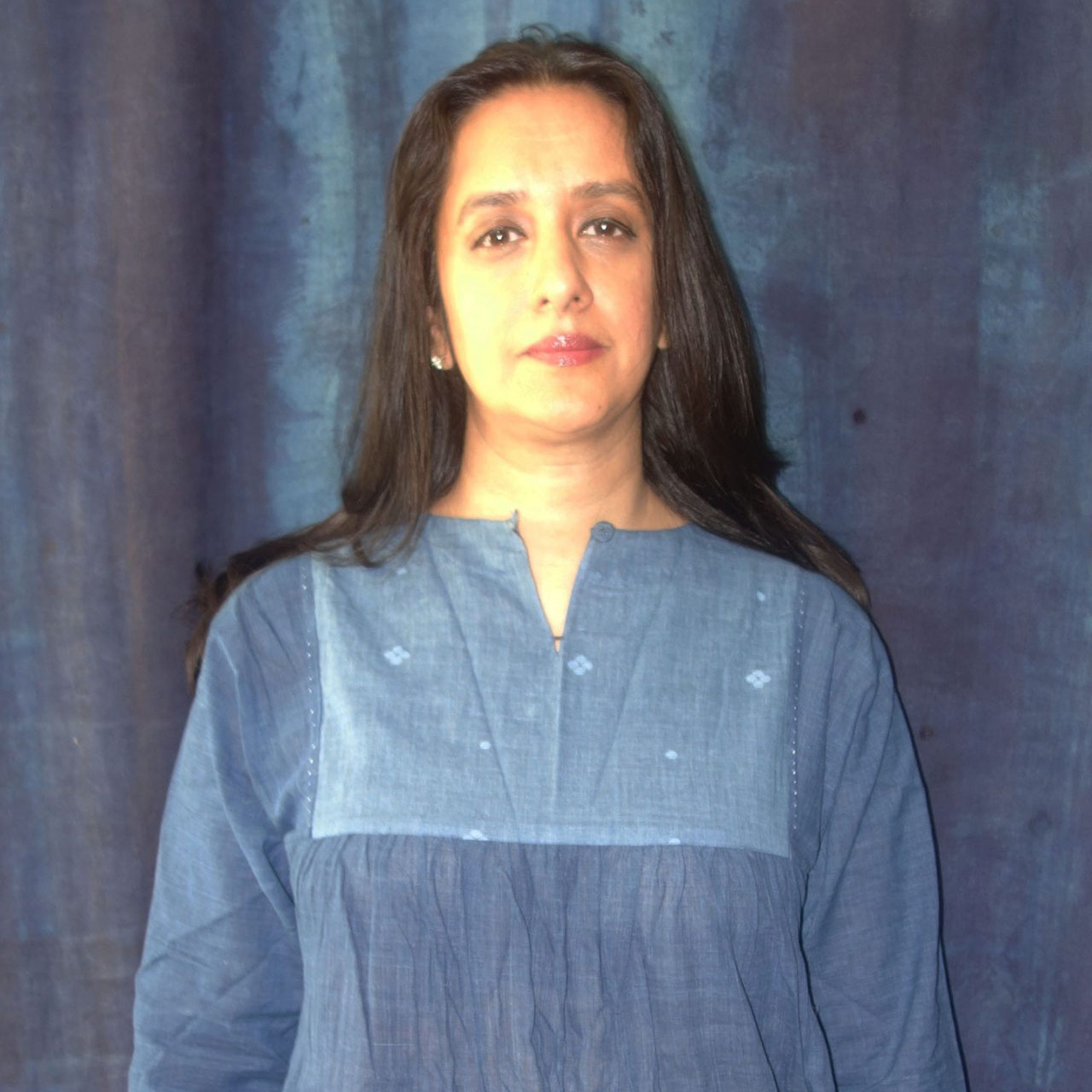 Company
Sudarshan
Country
India
Email
nadia@folkartmarket.org
Sudarshan
In Hindi, the word Sudarshan means beautiful. In the ancient district of Jaipur, India, Sudarshan is also the name of a thriving artist collective founded by expert textile artisan Hemangini Singh with the goal of preserving and promoting traditional folk textiles. Singh collaborates with skilled craftsmen to create a collection of handmade textiles, scarves, and accessories. Her aesthetic reflects a gorgeous melding of traditional craft techniques with contemporary styling. The ever-evolving collection presents a diversity of approaches, using block printing, handloom, and folk embroidery styles.
HOCINE BAZINE
Company
HOCINE BAZINE
Country
Algeria
Email
nadia@folkartmarket.org
HOCINE BAZINE
Master weaver Hocine Bazine first learned how to weave from his mother and grandmother who inherited knowledge of the craft from their ancestors. Together, they instructed him in the use of a vertical loom. Bazine learned motifs and patterns traditional to his family, culture, and regional history. As an adult, Bazine expanded his repertoire by taking rug-making workshops and classes, determined to further hone his techniques and skills. Through his work, Bazine strives to maintain the heritage of Berber culture and honor those who passed down the ancient weaving traditions and techniques he uses today. Crafted from sheep's wool, Bazine's carpets feature timelessly appealing geometric patterns and complex motifs in shades of black, white, red, and indigo.
PUJA BHARGAVA KAMATH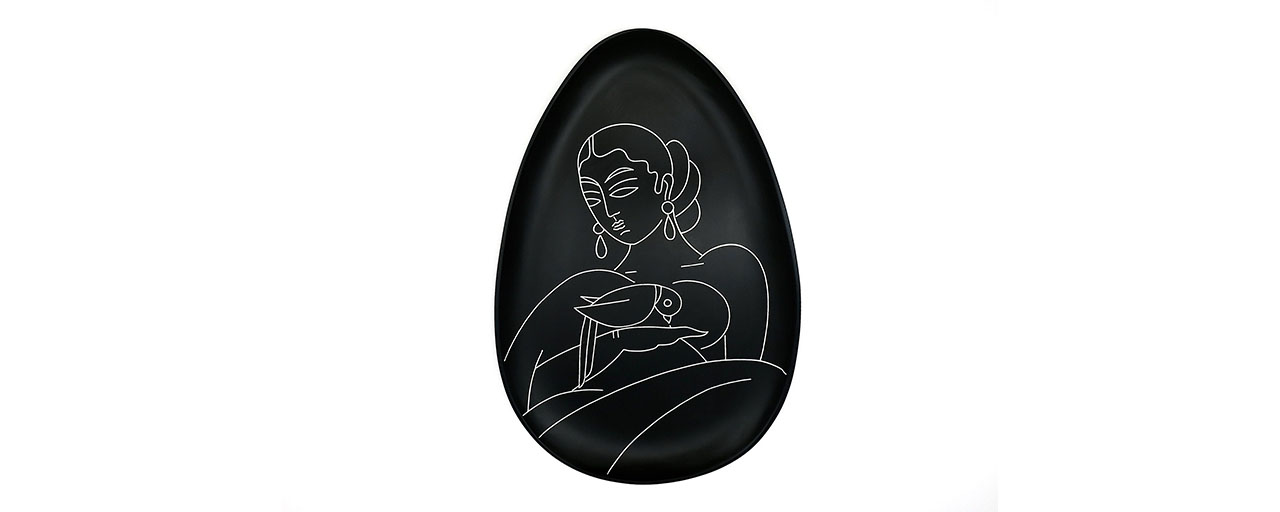 Company
Lai By Puja Bhargava Kamath
Country
India
Email
nadia@folkartmarket.org
Lai By Puja Bhargava Kamath
Steeped in Indian culture and folk art vocabulary, Lai, which means "beloved one" in Sanskrit, is a design-led collaboration working with artisan clusters in India to create jewelry and home accessories that meld traditional craftsmanship with modern aesthetics. Through pieces fabricated according to sketches provided by Lai's founder and lead designer, Puja Bhargava Kamath, the brand aims to promote the work of Indian artisans and revive fading creative traditions. Lai takes the spirit of creation as an opportunity to celebrate the diversity of craft in India. Many of their necklaces and rings feature vibrant miniature paintings that are made using the same techniques and skills employed since the 16th century.
MAMTA VARMA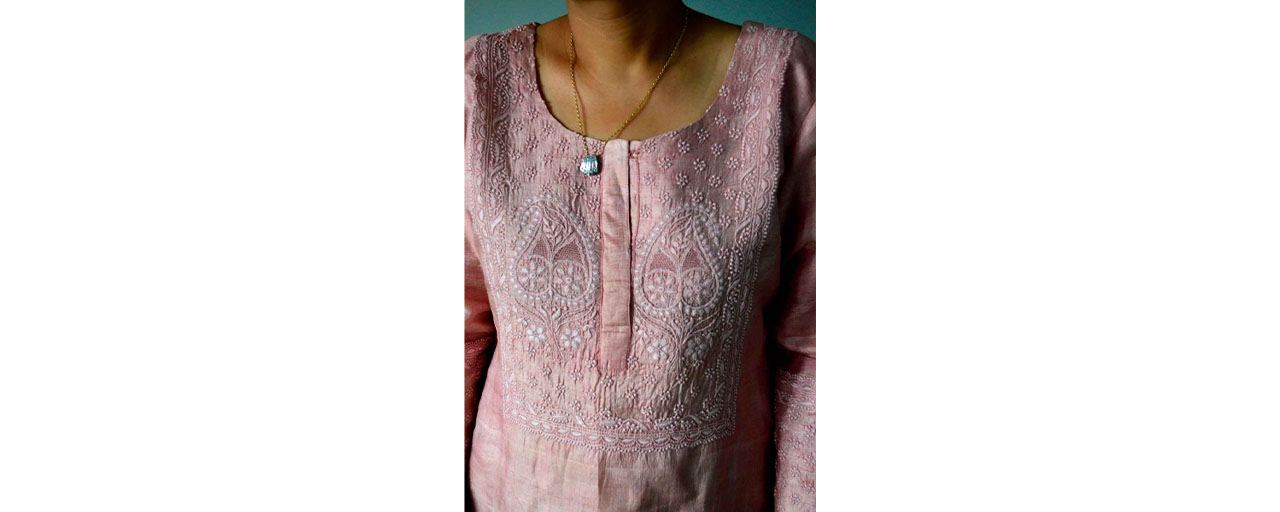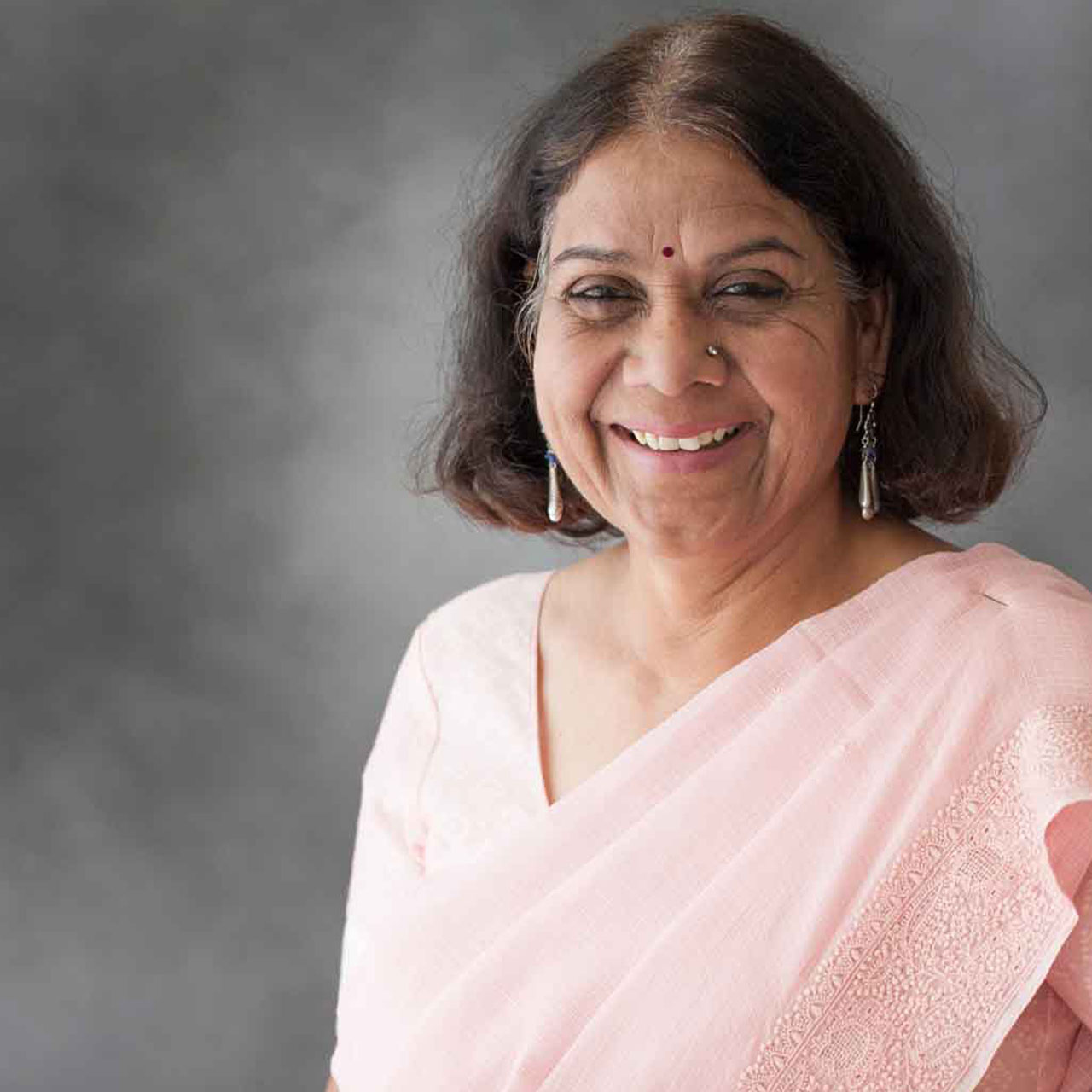 Company
Bhairvis Chikan
Country
India
Email
nadia@folkartmarket.org
Bhairvis Chikan
Master textile artisan Mamta Varma was born and raised in Lucknow, India, the traditional home of fine chikan textiles. In 1998, Varma opened Bhairvis Chikan, a cooperative textile center to train and employ women and girls in the art of traditional chikan-style Indian embroidery. With an eye for meticulously crafted, high-quality items, Varma has been able to provide dozens of regional women with a means of supporting themselves and their families. Textiles created by Varma and her team include elaborately designed, yet functional goods such as delicately embroidered household linens, natural silk shawls and saris, and breezy, effortlessly wearable cotton garments. The promotion and preservation of hand-woven fabric is an integral part of Varma's mission, and, together with Bhairvis Chikan's artisans, she works tirelessly to bring it back into mainstream chikan textile goods.
MARIE RASOANANTENAINA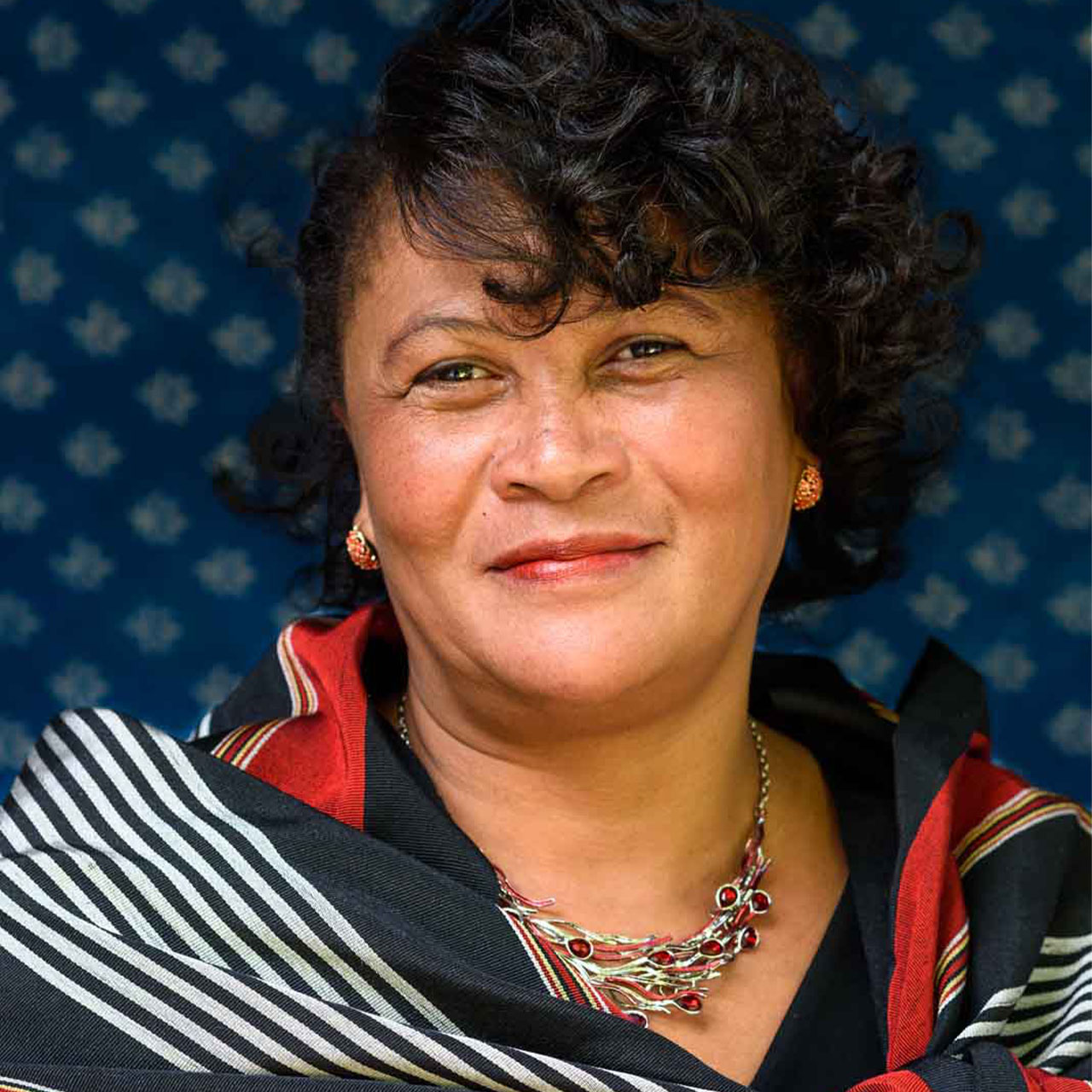 Company
Tahiana Creation
Country
Madagascar
Email
nadia@folkartmarket.org
Tahiana Creation
For 35 years, artisans at the Madagascar cooperative textile organization, Tahiana Creation, have been producing a range of natural-fiber products. Tahiana's founder, Marie Alexandrine Rasoanantenaina, started out by selling handmade clothing door-to-door in the 1980s. Within a few years, she was able to hire additional women to help with sewing and embroidery. She began to experiment with alternative dyes and materials, tapping into Madagascar's abundant natural resources. Some items created by Tahiana Creation, such as richly textured wall hangings, are understated and elegant; their earthy hues, like warm beige or soft chocolate brown, imbue them with an almost ethereal quality. Elsewhere, natural-fiber baskets resemble bird nests, with twig-like appendages jauntily surrounding a finely woven vessel.
MEETA MASTANI
Company
Bindaas Unlimited
Country
India
Email
nadia@folkartmarket.org
Bindaas Unlimited
Meeta Mastani is an accomplished community leader, teacher, designer, and artist based in New Delhi. She says her life is in both rural and urban communities in India, as she has been working with and supporting folk artists since 1989. Working collaboratively with the printers and dyers of Studio Chaubundi in Kaladera—who are fourth-generation folk artists—Meeta uses traditional Rajasthani woodblock printing techniques to create whimsical contemporary textile designs inspired by everyday life. The printed textiles are then sent to tailors in Delhi to be transformed into garments and home linens. Her t-shirts, dresses, casual button-downs, and tea towels, printed on cotton, linen, and silk, feature repeating patterns of hand-printed elements like steaming cups of coffee, popsicles, and ice cream cones, grinning dinosaurs, and birds perched on power lines. She also offers more traditional Indian themes inspired by nature.
REINEL MENDOZA & MAGNO CATERINO MAHECHA
Company
Cooperativa Divino Nino
Country
Columbia
Email
nadia@folkartmarket.org
Cooperativa Divino Nino
Colombian artist collective Divino Niño was founded by master artisans Reinel Mendoza and Magno Mahecha, members of the Indigenous Zenu group in the northwestern part of Colombia. The so-called sombrero vueltiao—a type of fedora hat made of woven and often dyed fibers—is traditional to Colombia. Most of the symbols woven represent clans, boundaries, and personal legacies from ancestors. In addition to intricately woven purses and hats, Divino Niño's artisans also create a range of beautifully unique jewelry. Whether in the form of a practical, gorgeous satchel, a unique fedora hat, or an innovative bangle or necklace, Divino Niño's artisans truly offer something for everyone.
SANJAR RAVSHANOVICH NAZAROV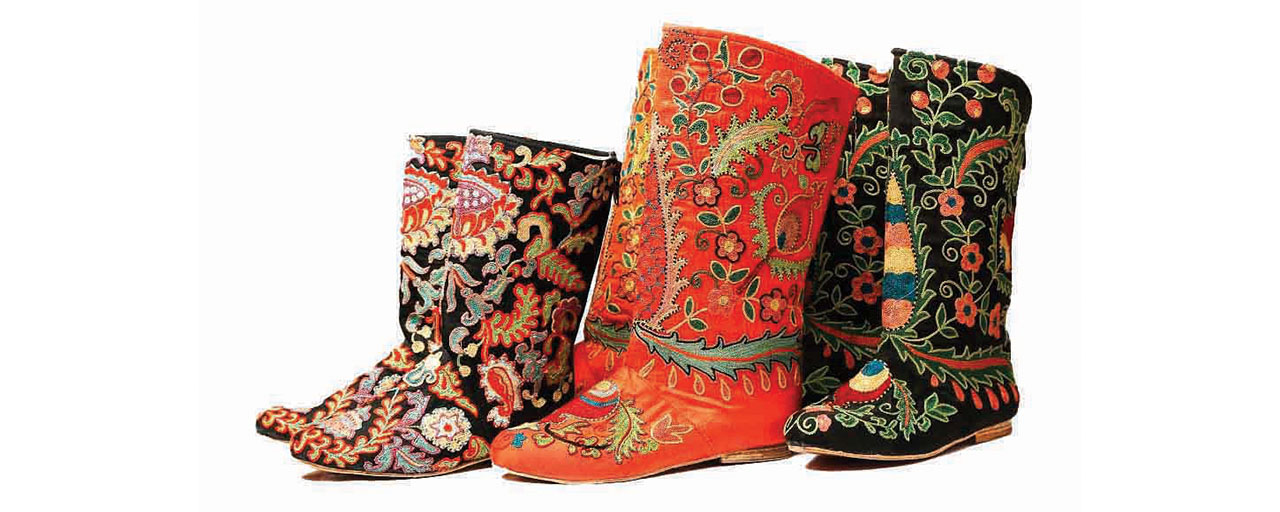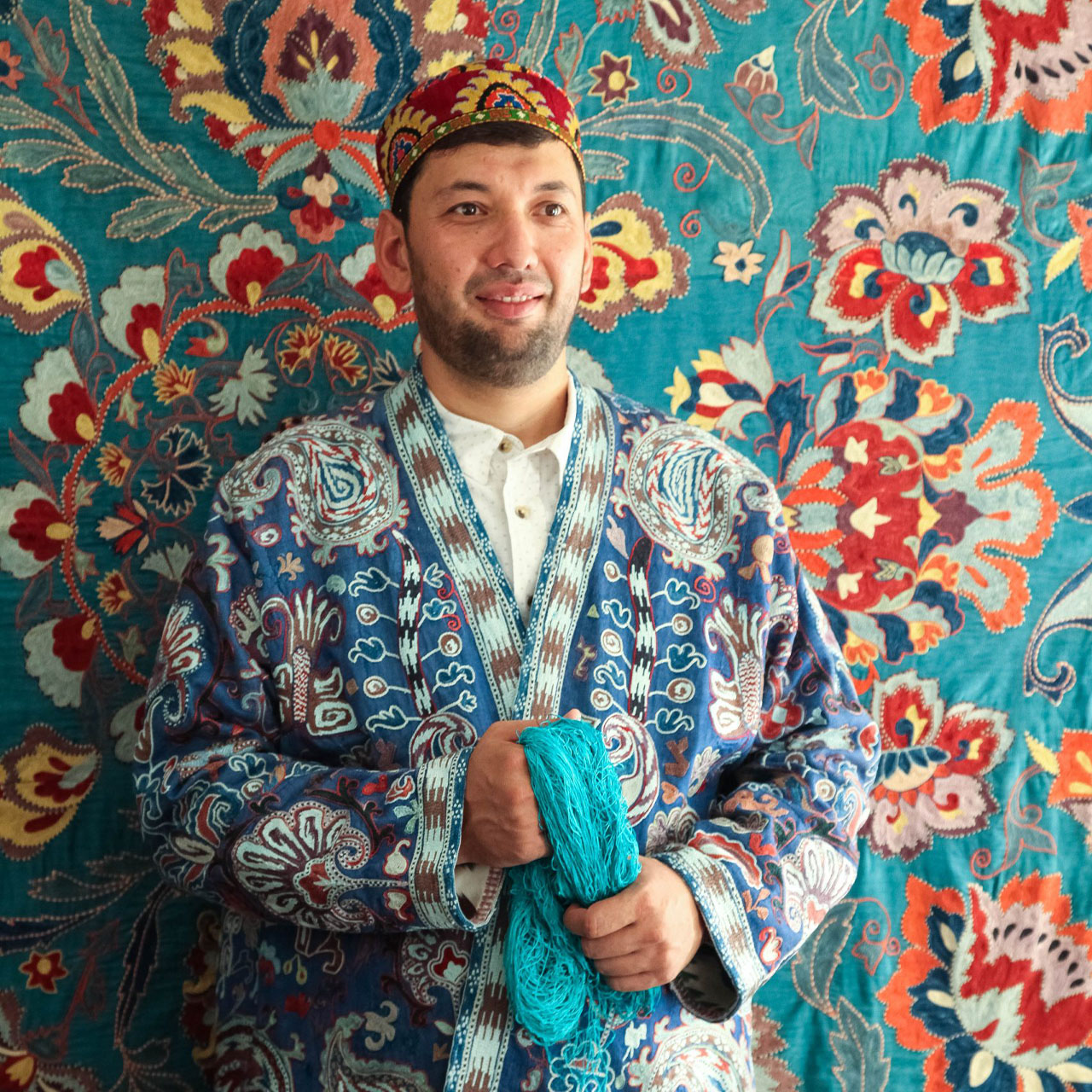 Company
SANJAR RAVSHANOVICH NAZAROV
Country
Uzbekistan
Email
nadia@folkartmarket.org
SANJAR RAVSHANOVICH NAZAROV
Third-generation master embroiderer Sanjar Ravshanovich Nazarov grew up watching artists—in this case, his father and grandfather—at work. Today, with his own team of artisans and apprentices, Nazarov runs a large workshop in historic Bukhara, Uzbekistan. His birthplace offers myriad sources of creative inspiration, and also encourages him to maintain the gorgeously unique, centuries-old embroidery practices which make Uzbek textile artists so renowned. Most of the design motifs that adorn these items are traditional to the nomadic Lakai people of Uzbekistan. Their expressive imagery was historically crafted by women as symbols of protection and to represent major life events.
ZARINA KENDJAEVA
Company
ZARINA KENDJAEVA
Country
Uzbekistan
Email
nadia@folkartmarket.org
ZARINA KENDJAEVA
Bukhara, Uzbekistan is beloved the world over for its wealth of artforms. It's here, in this ancient city, that Zarina Kendjaeva's traditional suzani embroidery both expands upon traditional floral and symbolic designs and also achieves special distinction for its unusual patterning and coloration. In Uzbekistan and elsewhere in Central Asia, suzani is used for decorative wall hangings, curtains, bedcovers, bags, and special occasion garments. They are made from finely hand-woven cotton or silks, and often the embroidery covers the entire cloth leaving only very small unfilled areas. Kendjaeva reaches into the intensely patterned watercolors of the Classical era for inspiration for her kaleidoscopically colorful combinations of embroidery and ikat.
VIP PREVIEW PARTY
DALLAS MARKET CENTER | WORLD TRADE CENTER | FIRST FLOOR ATRIUM
TUESDAY, JUNE 21, 2022 | 6 - 8:30PM
Complimentary Valet Parking Begins at 5pm at the IHDC Entrance: 2000 Stemmons Frwy.
Be the first to view one-of-a-kind cultural treasures from around the world while you enjoy music, wine and hors d'oeuvres by Break Bread, Break Borders. Shop a selection of the unique pieces that have made the International Folk Art Market | Santa Fe a major art destination. From basketry to jewelry, embroidery, weaving, ceramics, and more, you'll discover unique, handmade items you won't find anywhere else.
RSVP NOW
International Folk Art Market | Collection
Dallas Total Home & Gift Market
June 22 - 25, 2022
Explore the world through artisanal products including embroidered textiles, basketry, ceramics, beaded jewelry, painted wood objects, tie-dye scarves, hand-woven silks and clothing. Many goods are handcrafted through processes passed down from generation to generation. The proceeds directly transform lives provide year-round income, and create a lasting economic impact on their communities.
© 2022 | Dallas Market Center
2100 Stemmons Freeway , Dallas, TX 75207 | 214.655.6100 or 214.744.7444